About Akashi Park
Overview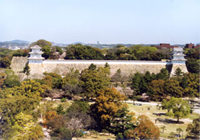 Akashi Park is an urban park created around the Akashi Castle ruins which remain in the Akamatsuyama plateau at the western end of the Rokko Mountains.
Castle ruins were opened as a park by volunteers in Akashi-gun of those days in May, 1885 (Meiji 16).
After that, following the process such as being transferred to the Imperial Family, it was newly established as a prefectural park in April, 1918. (Taisho 7).
There are many trees and plants abundantly, and the hills, ponds and moats in the park which are beautiful in harmony with the surrounding natural environment such as cherry blossoms in spring, fresh green in early summer, red leaves in autumn. It's rusticityrural beauty even in the city area.
It was selected as "Heisei 100 Urban Park of Japan" in July, 1989 (Heisei 1), and nationwide "100 Cherry Blossom Sites for Sakura" in March, 1990 (Heisei 2).
In addition, there are various exercise facilities in the park which are used for sports and recreation.
"Akashi Castle Musashi Garden" was established in March, 2004 (Heisei 16).
Park Information
| | |
| --- | --- |
| Location | 1-27 Akashi Park Akashi City |
| Area | 54.8ha |
| Fundation Date | April 15, 1918 (Taisho 7) |
| Classification | Regional park |
Main Facilities
Castle ruins
Area (4 ha) · Inner Citadel (Honmaru) ruins (Southeast Tower (Tatsumi Yagura), Southwest
Tower (Hitsujisaru Yagura)/ Important Cultural Assets of the Country), Second Citadel (Ninomaru), Higashimaru and the other gates, Stone wall (Ishigaki), Moat (Hori) etc.
Buildings
Service Center, flower and Gardening Consultation Office, Park House (Shops), Japanese Style Conference Room (Tea Ceremony Room), Prefectural Library, Prefectural Archery Hall etc.
Open Space
4 of Lawn Open Space(1.4ha), Nakayoshi Open(0.15ha) Space, Kodomo-no-Mura(Children's Park) (1.16ha), Kodomo Hiroba (Children Open Space) (0.4ha)
Rest Station
12 places
Moat/Pond
Moat (4.3 ha), Gonoike-Pond (2.9 ha), 3 other places (0.46 ha)
Exercise facilities
Baseball Stadium 1/ Center (122 m), Both wings (100 m), Capacity: 12,000 people (About 4,300 stands), Others: Hot water shower, Broadcasting equipment, Scoreboards etc.
Baseball Stadium 2/Center (97 m), Both wings (80 m), Capacity of the infield stands: about 650
Athletic Stadium/1 Lap: 400 m (all weather type), Capacity: About 20,000 people (About 6,000 stands), Others: Hot water shower, Broadcasting equipment etc. (Japan Athletic Association 3rd type Official Recognition)
Sub Athletic Field/1 Lap 250 m (Semi-cinder track paving)
Tennis Courts/12 courts/All weather type (artificial turf with sand), Club house (two stories), Capacity: 7,000 people, Broadcasting equipment, Hot shower etc.
Lawn Bawls Court/7 Rinks
Ball Fields/90mx60m
Cyclying Tracks/1 Lap: 400 m (asphalt concrete pavement), Capacity: 1,200 people (Japan Cycling Federation Officual Recognition)