Musashi Garden
Relationship with Musashi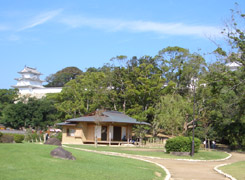 There were various theories about the birthplace of the master swordsmen Musashi Miyamoto (1584-1645), but recently it's recognized as the current Yoneda, Takasago city.
Musashi didn't belong to a specific clan during his lifetime and while traveling throughout the country, he studied the way of the sword. And he left a lot of footprints in the Harima area especially where was his birthplace.
Also here in Akashi, he was invited by Tadanari Ogasawara, who was first castle owner in 1617, and involved in setting up Akashi's town split (= urban planning) and setting up a castle house.
Jumoku Yashiki
Jumoku Yashiki is a place built as the castle owner's pleasures, for walking, break and hospitality to customers. A it was also called Yamazato Kuruwa, it is more plausible taste than a luxury lordsome garden.
As main facilities, it's recoreded in Ogasawara family's book called "Seiryuwa" that there were Tea ceremony room = resting place, Mari-no-kakari= place of kicking, Tsukiyama (artificial hill), Spring water, Waterfall etc.
Reproduction of Musashi's garden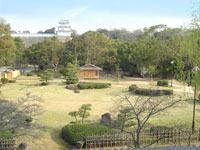 Jumoku Yashiki was built in the place of the present athletics field in Akashi Park.
As a result of considering the suitable place for creating the garden of Musashi's garden in the park this time, it was decided to arrange around Otome-ike pond surrounded by pond and tree.
And since there is almost no material left on Jumoku Yashiki, based on the record that the construction work around Otome-ike pond was done in 1922 (Taisho 11), the design document was completed after consideration by the expert committee.
Maintenance overview
| | |
| --- | --- |
| Target area | Approximately 1 ha (10000 m 2, including Higurashi-ike pond, Otome-ike pond) |
| Yashiki Gate | Wooden Width: 1 Ken (181.8cm) |
| Kenninji Fence | 24m |
| Tea Ceremony Room | Wooden 37㎡ |
| Mari-no-kakari | Planting cherry, willow, maple and pine in the four corners |
| Others | Big Fall, Small Fall, Nakajima, Stone Bridge |
| Arbor | Wooden 2.8m×2.8m |